Yesterday, I visited Stephansdom for the first time! (And I can also say this in german: Gestern, habe ich Stephansdom zum ersten Mal besuchen .) For my Austrian art and architecture class, I have to keep a journal, and one of the required entries was to visit the Cathedral and write about our gut reaction to it. I went in with certain expectations, and this church definitely exceeded them. It is late Romanesque and early Gothic, this I know, so I sort of expected it to be similar to French gothic cathedrals: immense, dark, stuffy, cavernous, depressing. Although Stephansdom was VERY cavernous, with huge columns that are carved in a way that they actually remind me of stalactites and stalagmites, the whole of each the east and west side are covered in pale stained glass. I don't know if it is because I went in the morning, but it was actually very bright inside and I liked the atmosphere a lot. The other thing I liked is that people from Vienna still do go there to pray, and I saw several Viennese on their knees in front of the Virgin Mary alter doing just that. Although it was still rather cold and austere, it felt like it was inspired by a love of God as opposed to a fear of God like the cathedrals in France.
As great as the inside was, the outside is even better! The church is wedged into a tiny square called Stephansplatz. Here is a photo that is not mine that really illustrates how close to the other buildings this church is: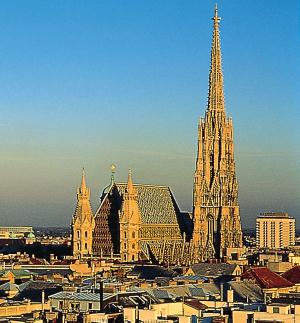 The roof is shingled/tiled in a way that one side has a zigzag pattern and the other side has the Hapsberg crest. The Hapsbergs believed that the empire was blessed by God himself, so they built and upkept and changed a lot of churches within the empire. It is also built with the same sandstone as one would find in Dresden, Leipzig, and Berlin, so that some of it has oxidized and turned black. My favorite part, however, was all the gargoyles. There are traditional winged-monsters, grotesque humanoid figures, lions, and my personal favorite, vicious guard dogs. I drew on in my journal (as they are supposed to be illustrated).
There were also probably at least 20 horse and buggy sets lined up waiting for tourists to come pay for a ride. I really wanted to go pet the horses, but I didn't want to try and ask in German. I did however have someone ask me if I was from Vienna, to which I replied "Ja!" and then he asked me if I knew where something was. Alas, I had never heard of the place and couldn't actually help him, but I had a whole conversation with a German speaking person in a public place and it was super-dee-duper! I also found a bookstore with big racks of English-language paperbacks outside, so I got the thickest one I could find (they were all around 10 Euros) because I needed something to do on the train. I don't mind the commute too much, but when I'm spending 160 minutes on the train a day, I need something to do besides sit there.
I went out last night, we went to several really fun bars all over the Bermuda triangle, and today has been somewhat lazy as we didn't get home until 4 o'clock in the morning. Tomorrow I'm going to walk up to the church on the hill and potentially go walk around and take pictures of the Rathaus, the Parliament, the Schonbrun, etc. I might even get really motivated and go to Naschmarkt again to see if I can find some asparagus!
I'll try to put up some Germany pictures tomorrow. I've been working on them to make an IES blog, but I have a lot to show, so it is slow goings. I love you all! Tchuss!